NS 1.27.6.15

KIN 163 - BLUE RESONANT NIGHT

I inspire in order to dream
  channeling Intuition
I seal the input of Abundance
with the resonant tone of Attunement
I am guided by the power of Vision

"For once you have tasted flight you will walk the Earth with your eyes turned skywards, for there you have been and there you will long to return."
~ Butterfly Man ~
AUTHOR:  Man-made or not*, yet still part of G.O.D (Galactic Ordering Dynamic)
DIMENSIONS: 530 Meters x 450 Meters Wheat Canvas
(Biggest Crop Circle Ever)

 Reported in Goes, Netherlands on the 7th of August 2009 - (NS1.22.1.13) -
KIN 16 3Warrior (113+163)
1 day after 64th Anniversary of Hiroshima
As we approach the end of yet another "gregorian year", we are now feeling with great intensity the synchronic power of the incoming New Galactic Beam fractal wave from Galactic Synchronization/Planetary Resurrection, 520 days ago, July 26/2013 KIN 164 Yellow Galactic Seed.  This new surge in planetary energetics was signaled by our recent passage through the Time ripples of the 2nd anniversary of the Closing of the Cycle from December 21st, 2012, Winter/Summer Soulstice, followed by the passage through the 8th Sign of Prophecy: the Prophetic RetURn of Christ and the Avatars during last Christmas Eve December 24th, 2014 (See SuperNova Quetzalcoatl 1987A - Phase I report for FULL details.)
SIGNS OF PROPHECY IN THE SKY: LOVE+JOY EMISSARY
"Comets and Blood Moons have been associated to prophecy probably since the "Beginning of Times" or early years of Human Civilization. When these motifs appear on the screen of our reality/consciousness with such synchronic potency, they invite us to contemplate life under a new lens... and explore the realm of Prophecy."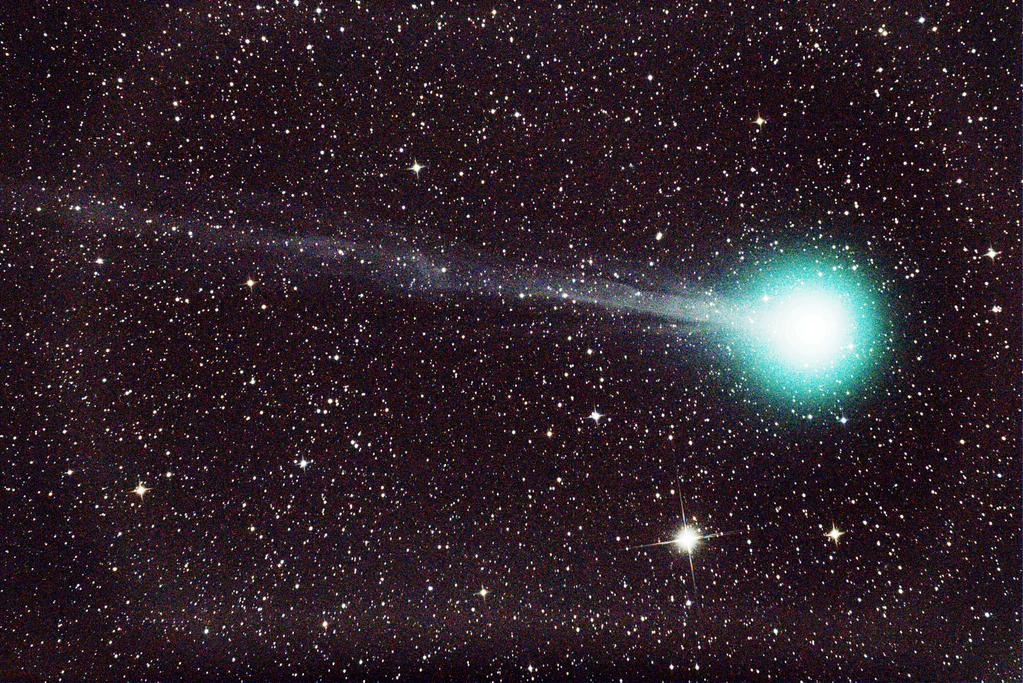 As a last minute confirmation sign in the sky of the presence of the Star Beings during this incredibly powerful Portal we are STILL transiting, Comet LoveJoy C2014 Q2 made its surprise appearance to the "naked eye/i" in the sky and on the web, right ON TIME for Avataric Christ mass celebrations:

Note that tomorrow, during the completion of the 520th day after the arrival of the Galactic Beam, Comet LoveJoy will be transiting right through the Rabbit Constellation/M79 Star Cluster:  
520 = 52 x10 Frequency of Sirian (52) Manifestation(10). ~ Completion of one Cycle of Becoming (260 Days) + One Cycle of RetURn (260 days) ~
79: Noosphere Constant
In Mayan/Aztec Cosmology the Rabbit corresponds also to the Lamat/STAR Glyph. The Shield of Arcturus.
According to Wikipedia, LoveJoy was discovered only a few gregorian months ago, on August 17/2014 (Magnetic Moon 23 KIN 31 5Monkey). KIN 31 is the perfect analog Power of KIN

148

5Star

Sign of Arcturus Command and also the Galactic Signature of Jose Arguelles/Valum Votan at the time of his Ascension.
~ (Synchronic Observations + Diagrams & links Courtesy of Jannis GA189!! :-) ~

According to scientists "The comet wasn't predicted to become visible with the unaided eye until late January or February 2015. But comets can be unpredictable, with chaotic surface activity as they heat up and melt while nearing the sun during orbit. Since summer, the comet's brightness has shot up by hundreds of times."
REDEMPTION OF THE INNOCENTS:
Today, December 28, KIN 164, as this report is still being written, on the gregorian calendar is celebrated the "Feast of the Holy Innocents" (also known as The Innocents' Day or Childermas /Children's Mass) in commemoration of the massacre of these "Holy Innocents", traditionally regarded as the first Christian martyrs. Within Galactic Maya Cosmology, The Seed represents the Galactic Archetype of "The Innocent", and the Galactic Tone holds the power of Integrity... A perfect opportunity in time to redeem the past and bring back to Wholeness Humanity's Divine Right to return to the Stars and evolve back into the Light.

PLANETARY RESURRECTION: ENTERING PHASE II


"As of July 26, 2013, Yellow Galactic Seed, we have entered the New Galactic Beam of Consciousness. We are being called to birth not only a new paradigm, but an entirely new culture: galactic culture based on the principles of Love, Art and Synchronicity - a zero waste society in harmony with the Earth. A global culture where time isn't money, but TIME IS ART!" 

~Stephanie South/Red Queen~



~ Planetary Resurrection Ceremony - Mt Shasta, CA ~ 07.26.2013 (NS1.26.1.1 - K164) ~
This completion of 520 days signaled in the sky by the synchronic arrival of comet LoveJoy announces then our entrance into a VERY NEW Time-Space Reality: a New Phase (and probably even more unpredictable, accelerated and transformative one) within the process of Planetary Resurrection and constitutes also one of the last sign-posts along the way before our so awaited arrival to Syntropia...
On Part 1 of this report we started to "uncover the layers of Truth behind the "untold story" of planetary redemption and resurrection as a masterpiece Master Peace of Art, crafted with the sweat, the tears and the creative imagination of all the human beings, who, as Nicholas Roerich, John Lennon and Jose Arguelles, have been able to exert their art fully into being, with the sole soul intention of overcoming the stigma of utopia and the spell of war and separation that keeps humanity derailing from its true Galactic Heritage and Destiny... These characters, flesh and bone human beings driven by the passion of their dreams and highest aspirations for the planet, have been some of the heroes of a sort of "Galactic Fairy Tale"....  Their lives dance to the same Symphony of Cosmic Harmony being played out from the center of our Galaxy and orchestrated by GOD a.k.a Galactic Ordering Dynamic...  weaving a sacred tapestry of Art and Purpose. A cosmic story woven through the magical invisible strings of Synchronicity that one day will dwarf all science-fiction stories from Dostoyevsky, to Jules Verne to Dawn Brown..."
On this second part, we promised to explore and understand how this Planetary Resurrection Process is part of a larger synchronic tapestry interwoven with the 4 Blood Moon Eclipses from 2014-2015 and how this MasterPeace of Art seems to be coming together coded with the signature of no other than one of the greatest artists of the Renaissance and our Time:
The Grand Master Leonardo DaVinci

THE RENAISSANCE FREQUENCY:
"Galactic Renaissance IS the Revolution of Time in action.

As each of us begins to find and express our own unique channel, then sooner than later we will break out of this confining artificial cocoon and become glorious galactic butterflies soaring in a new atmosphere.

When we are aligned with the New Beaem, there is no past to return to. There is nothing to defend. There is no image to maintain. There is no one to compete with.

IT IS ALL YOU…"

~Stephanie South/Red Queen~



Since I was a child I have been attracted and fascinated by Da Vinci's visionary work, and as a young copy-cat sketch artist, I used to spend quite some time copying his human-figure drawings as "training wheels" and source of inspiration. Later during my thirties, with the unveiling of the DaVinci Code book and movie, the spark of interest was reignited and since then my understanding of the Universe, Sacred Geometry, and the true Nature of Reality and Human History have been greatly influenced by Da Vinci's Work and Mastery-Mystery.
"My job as a visionary is to envision the best possible outcome for humanity.
If I don't do it, who will?"  ~ Jose Arguelles / Valum Votan ~
Most recently, during the last 3 years while I have had the chance to truly learn, absorb and realize the profound implications for humanity's future that lay behind the postulates of Law of Time and the Synchronic Order, it was impossible not to associate the life of DaVinci and the life of Jose Arguelles as the journeys of two Visionaries, both way ahead of their time, bringing new knowledge to the planet through the most noble type of alchemy: The marriage of Art and Science... So, when I was asked to design the "New Galactic Beam version" of the 13 Moon Star Travellers Almanac of Synchronicity, I felt guided and compelled to design a workbook inspired by Past & Future worlds and the Galactic Renaissance of Art & Science. This is how the Vitruvian Man evolved into the Homo Noosphericus on Almanac's Cover (thanks to the collaboration and creative genius of GA227 Nikki Lee Hill...)

So in order to find our way through this new journey into the vast ocean of Synchronicity, it is once again highly recommended to "bring on board" your 13 Moon Almanac of Synchronicity as your 4-D Navigational Guide and allow the DaVinci genius inside it to walk you through. It will also help to understand more easily the signposts and syncs along the way. Remember: Also bring on board with you an open mind (and Heart too)… We are sailing once again into the psycho-mythic realm of Prophecy to establish a bridge with an imaginal world, where a higher reality is operating, everything is possible and is occurring in perfect timing with utopian synchronic and prophetic elegance...
 
* * * * * * * *
DA VINCI: A HUMAN PORTAL
Born on April 15, 1452 (12.10 - Day 12 of Planetary Moon - KIN 177 Red Galactic Earth), in Vinci, Italy, Leonardo da Vinci was concerned with the laws of science and nature, which greatly informed his work as a painter, sculptor, inventor and draftsmen. His ideas and body of work have influenced countless artists and made da Vinci a leading light of the Italian Renaissance.
The "Father of the High Renaissance" arrived to Earth on a date that is in itself a very powerful Time Portal day:  April 15 (12.10) This date constitutes a mysterious time marker that has coded other important interwoven events:
15th April 1452        Birth of Leonardo Da Vinci

15th April 1856        Death of Abraham Lincoln
15th April 1912        Titanic sinks

15th April 1935        Birth of Banner of Peace - Roerich Peace Pact Signature by 22 nations

15th April 2001        Rare Venus alignment on "Native American Easter" on 1 Reed,
                                 (Quetzalcoatl meets Jesus)

Please read Venus Resurrects This Easter Sunday - from John P. Pratt   and Jannis189 Blog: "Comet >>> 21022012 <<< Time Bang >>>and the Noosphere " for details on this potent date)

April 15th is also date that also contemplates very symbolic and synchronic observations:
APRIL 15TH: "TIME IS ART" MEETS "TIME IS MONEY"
It is quite interesting to notice that (US) TAX Day and World ART Day are contemplated at the same time, since each of these celebrations represent the 2 Time Frequencies operating on Planet Earth and upholding two opposite paradigms:
Now it is even more interesting to learn about the reason why the date 4.15 was just recently selected as World Art Day:
"On April 5-6, 2011, the 17th General Assembly of AIAP / IAA World, holding its meeting in Guadalajara, (World Art Associations founded in 1954) has voted unanimously the proposal brought by Turkey and co-signed by several world delegate countries: the AIAP General Assembly accepted that the birthday of Leonardo da Vinci, April 15, becomes "World Art Day"

http://www.iaaworldartday.com

Please also notice that TAX DAY has been since the beginning of the 20th Century the catapult for "Uncle Sam"(U.S.) patriarchal figure and "hero" character of the propaganda machine who upholds and promotes the noble duties and twisted values of modern US Doctrine:
"GO TO WAR!"... and "PAY YOUR TAXES!..."
("...On April 15th so that I (U.S./Uncle Sam) can wage more wars!")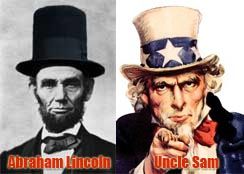 At the same time, the propaganda cartoon seems to be a fictional character inspired in the twisted image of Abraham Lincoln (KIN160 4 Sun frequency of Christ), the real "hero" whose message of freedom and equality and opposition to slavery, provoked his assassination/martyrdom also on April 15th, 1865... If we compare Lincoln and DaVinci we can also notice the strong similarities in face features and eyes expression:
If we now examine the date occult numerical qualities we can start to understand the synchronic and symbolic power associated to this date. According to Wikipedia:

April 15 is the 105th day of the year (106th in leap years) in the Gregorian calendar. There are 260 days remaining until the end of the year.
For those readers familiar with the 13:20 frequency, these numbers have a very special significance:
While there are 260 days in one Galactic Spin/Harmonic Cycle, there are 365 (364+1) days per one 1Solar/13Moon Cycle, so there is a 105-day difference between the two Natural Timing programs that coordinate the Synchronic Order: 13:20 (260) and 13:28 (364+1). April 15th seems to be then a sort of hidden coordinating factor within the gregorian count...
Number 105 also codes KIN 1Serpent and the 13-day WaveSpell of LifeForce... An opportunity to meditate on the occult power of Money and Taxes as control mechanism of our Life Force

We can also breakdown 105 days as:
2 x 52-day castles + 1 day
and infer then that the difference between one Galactic Spin and one Lunar/Solar Year is 2 castles + 1 day. Please keep in mind that 52 is the Sirian Cycle code frequency that synchronizes, coordinates and binds together the Solar/Lunar count and the Galactic count (52 weeks x 364-day year :: 52 Galactic Activation Portals x 260-day Galactic Spin)
TIME TRAVEL TO APRIL 15th, 2014
Now that we have established the potency of this portal date from different radial and multi-dimensional perspectives, let's examine other KEY additional synchronic qualities and events that emerged to surface during this last 04.15.2014:

As shown in the above graphic from a Vblog uploaded one galactic spin ago,while mapping the time-coordinates for the first galactic spin since the THE COSMIC HARMONIC CONVERGENCE (Sirius meeting the Cube @ Mekka on the Grand Sextile) I noticed that it aligned very elegantly with other important historical, astronomical and religious events:

The initial Blood Moon Eclipse from the 2014-2015 Tetrad
The 79th anniversary of the Roerich Peace Pact Signature in New York City by FDR and 22 world leaders.
The Jewish Passover: The Jewish people celebrate Passover as a commemoration of their liberation over 3,300 years ago by God from slavery in ancient Egypt that was ruled by the Pharaohs, and their freedom as a nation under the leadership of Moses.
Synchronic Note: It was right the day before on April 14th, KIN 166 (113+53)  that I received from Red Queen the final introductory text for the SolarMoon Almanac entitled "Year of Supreme Healing" (please see pages 6 & 7). The synchronicity led me to rush to finalize the layout, becoming the first completed spread of the entire Almanac (download PDF here)... Once finished I went outside at night to read it outloud under the red eclipse moon :-) It felt like a really special synchronic event, considering the fact that the text introduces us to the Regina Prophecy of the Moon (third key component of this planetary healing MasterPeace of Art that we will present in detail in future reports)
SIGNS OF PROPHECY ON EARTH : NOSTRADAMUS SENDS A SIGN

"The 2nd Blood Moon from last Oct. 8/2014 (2.19) KIN 83 5Night, opened a 16-day time window that closes with the next Solar Eclipse of Oct. 23/2014 (4.6) KIN 98 7Mirror and we are transiting since then a super "charged" energetic weather. It is during these times that is relevant to observe the 3D expressions/manifestations that these cosmic events create on Earth: AS ABOVE, SO BELOW. This is then "a good season" to "dig" for SIGNS OF PROPHECY ON HEAVEN AND EARTH"



 
Let's re-member now that it was right after the 2nd Blood Moon Eclipse from October 8th (NS1.27.3.19 KIN83 5Night) that Comet Siding Spring made its appearance above the Mars sky on October 19/2014 (NS1.27.4.2 KIN 94 3Wizard) bringing with it some prophetic news on Earth:

Renowned author/writer Dolores Cannon ("Nostradamus Voice")  left this plane of existence the day before (October 18,2014) on the 1st day of the 4th moon of Life Force on KIN 93 Red Lunar Skywalker (House of the Lunar Prophet). Dolores arrived to this planet ALSO on April 15th (10.12), same day of the year as the First Blood Moon Eclipse of the 2014-2015 Tetrad that occurred on KIN 167 11 Hand* (exactly 260 days after the Grand Sextile Alignment of 2013). Therefore "The Voice of Nostradamus" ascended as KIN 167 11 Hand ~ Spectral (Rainbow) Avatar precisely on the day corresponding to the frequency of the Lunar Prophet...(as noted before, more on the Regina Prophecy of the Moon on part 4 of this report.)

It was at that time that we started to see a prophetic and beautiful 4-folded harmonic pattern emerging, as introduced on Comet Siding Spring visits Mars report:
"Nostradamus is famous for writing prophesies proclaiming events of great destruction and devastation throughout history. Indeed, his abilities were incredible, as he predicted the assassination of JFK, the attack of the "flying birds in the city of hollow mountains" (referring to the September 11th attacks) and the ensuing war in the Middle East, to name a few. Midway through the session as the woman was describing the life, her personality suddenly subsided and Nostradamus himself began speaking through her directly to Dolores. He told her that he wanted her to write a book (which turned out to be 3 books) to provide humanity with greater understanding and clarification of the true meanings of his quatrains (prophecies)."

Notice on the paragraph above the analog significance of the words quatrains as prophecies.


This definition connects Prophecy to Verse, Poetry and Rhyme (Rhythm), confering IT the "status" of a "form of ART". The word also originates from the inherent harmonic value of the number 4. In the Dreamspell Cosmology 4 represents "Form" and the primary organizational time construct present in All Nature:

4 Seasons in a Year (Spring, Summer, Fall, Winter)
4 Phases of the Moon (New, Waxing, Full, Waning)
4 Daily Watches in a Day (Midnight to Sunrise, Sunrise to Mid-day, Mid-Day to Sunset, Sunset).
4 Primary color frequencies and their qualities:


Red (initiates)

White (refines)

Blue (transform)

Yellow (ripens).


Summarizing:

Quatrain = Prophecy = 4 = Time= Harmony = Verse = Poetry = Art


T(E)=ART = "Time is Art"
Since the 4 Moons align with important jewish holidays, even books have now been written on the subject, including a polemic one from Christian pastor John Hagee called "Four Blood Moons" Something is about to change.

And now that we are deep into this Year of the Red Solar Moon Healing, and just crossed the second Blood Eclipse [VERSE] of the 2014-2015 Tetrad [QUATRAIN] , I can say that I personally agree with Mr. Hagee in the sense that, as his book cover slogan says: "Something is about to change"... Actually is already changing:
As the New Galactic Beam enters into increasingly higher resonance frequencies, synchronicity accelerates and we start to feel the first stages of an imminent "Event Horizon" approaching fast and furious..."
With this new set revelations around April 15th and Leonardo DaVinci a beautiful time pattern is starting to emerge to the surface linked to the Banner of Peace and the Cycles of the Moon... On PART  Quatrain III : 3 : ••• of this report repART we will go deeper into this pattern... A pattern that claimed the name of:
THE
~"DaVinci TimeCode"~

STAY TUNED!
(Transmission in Progress...)
INLAKECH
GA 113 



SPECIAL THANKS to GA222 and GA189
for their support and collaboration in the Creation of this reportART

Special dedications:
to my sisters
Clare163 and Bea163 Stonehenge Guardians and Juanita 165 on their Galactic Birthdays
  Juanita 53 on our combined Galactic RetURn (113+53)

TO ALL ARTISTS EVERYWHERE
(*even those who create man-made crop circles :-) )
Recommended reads:
PART1 OF THIS REPORT:

++++++++
If you like what you just read and would like to see it to continue, please SHARE
or click below to donate, your contributions will help establish a Galactic Culture based on LOVE, PEACE, ART & SYNCHRONICITY on Earth.
THANK YOU!
++++++++